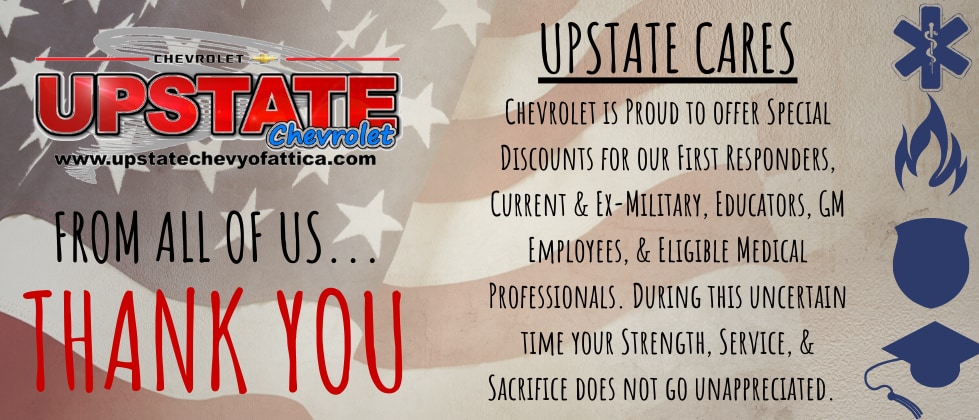 CHEVROLET FIRST RESPONDER DISCOUNT
Upstate Chevrolet Would like to thank all of our First Responders and Healthcare Professionals
For your courage and sacrifice during these uncertain times, Upstate Chevrolet has discounts for first responders and healthcare professionals. This includes discounts on the purchase or lease of eligible New Chevrolet trucks, SUVs, and cars. The list of eligible vehicles can change over time, so make sure you check out the list before you buy.
WHO IS ELIGIBLE FOR THE FIRST RESPONDER DISCOUNT?
Paid or volunteer Firefighters, Police - including Police Officers, Sheriffs and Sheriff's Deputies, Correctional Officers, State Troopers and Federal Law Enforcement Officers - EMTs/Paramedics, 911 Dispatchers and eligible Healthcare Professionals are all eligible for the discount.
WHERE CAN I FIND MORE INFORMATION?
You can find more information by checking out the Rules & Guidelines, Vehicle Eligibility, and Current Offers. If you have any questions, you can also give us a call at (877) 463-0897 or contact us online.
Hours
Monday

9:00 am - 8:00 pm

Tuesday

9:00 am - 8:00 pm

Wednesday

9:00 am - 8:00 pm

Thursday

9:00 am - 8:00 pm

Friday

9:00 am - 5:00 pm

Saturday

9:00 am - 4:00 pm

Sunday

Closed